Emma's Soap gets shortlisted!
The Free From Skincare Awards have become the go-to awards for natural and organic brands who are committed to the 'free-from' cause. With over 270 entries to the awards, 120 experienced Beauty Bible testers and a dedicated panel of Free From judges and experts, this has been one of the award's most exciting years 2016.
"We were overwhelmed with entries this year and saw a 25% increase on 2015," said Alex Gazzola, Administrator of the Awards. "This reflects the continuing growth of the free from skincare market, as well as the increasing numbers of consumers who have to or want to avoid certain cosmetic ingredients – and need to have these clearly signposted by brands."
Awards Director, Michelle Berriedale-Johnson adds: "Be it in skincare or in food, FreeFrom is becoming big business these days. So it is encouraging to see small companies as well as big ones entering our various awards, filled with enthusiasm and ideas to help a group of consumers who have been poorly served in the past."
Emma started her business in 2008 in Devon. Born out of necessity unable to find a product that she was happy to use on her own and her daughter's skin.
Passionate about the environment and the impact most manufacturing has, Emma has produced an ecological natural bar of soap without Palm Oil and free from Petroleumn & Mineral oils, Artificial Fragrances & Colours, Sodium Laurel Sulphate and Parabens.
Wrapped in Organic fair trade cotton a reusable packaging. Ideas and patterns are available on Emma's Website www.emmassoap.co.uk
Honesty, ethics and good solid green credentials are what drives Emma's business. Every decision made, from manufacturing, waste management, through to deliveries are made with environmental sustainable conscience.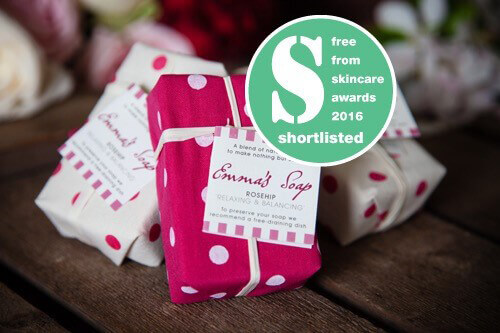 Rosehip Oil 'Relaxing & Balancing
Category Hard Soap
Rosehip oil is used in hospitals in Italy as it has been shown to reduce scaring and induce skin healing. With its rejuvenating properties this oil is invaluable for sensitive skin. Used to reduce ageing signs such as wrinkles and ageing due to sun exposure.
Rosehip soap is rich in vitamins & minerals inducing skins healing. Relaxing & Balancing essential oil combination relaxes and balances the mind with a feeling of deep softness. Powerful Geranium scent.
Here is what the testers said:
"A very delicate floral fragrance which I like very much - it left a faint fragrance on the hands after use - lovely. Yes, it lathered well and very efficiently. Good cleansing properties. Yes, the skin felt very cleansed but soft and didn't dry the hands so didn't need to use a cream afterwards. It held its fragrance and its shape. I really like the ingredients particularly the Rosehip oil. The packaging is all totally recyclable and the organic fair trade cotton wrapping the product comes in rather than plastic is a great idea. The products are hand made by a small company in Devon and are fair trade and palm oil and mineral oil free. All totally natural ingredients. Excellent value for money at £4.50. I like everything - love their Charity Pledge in which 20p per bar is donated Living Coasts. "
"Very soft rose fragrance, didn't leave a lingering smell on skin. Had quite a bit of lather of it and was just as good as other 'normal ' soaps. Easy to use and has lasted without cracking or breaking up. My hands did fell clean but I also felt as if hadn't rinsed them thoroughly after, as if there was a coating on my hands. Although I used it in the shower I wasn't too sure about using it as a body soap. I think mentally I didn't think it would cleanse me properly. My hands felt clean, slightly moisturised, enough that I didn't reach for the hand cream. After a month of use the soap is still in the same shape, it hasn't cracked and the slight fragrance is still there. it was a lovely soap to use. I will finish using it until it disappears. I would like to try another soap in a different fragrance to see if the smell is more to my liking. I would buy as a present as they are very nicely presented.The soap comes wrapped in a fair traded cotton and in brown paper. It is very eye catching and lovely to give as a gift. The ingredients are not on the packaging but they are easily found on the web site. The web site is like a story book, full of information and interesting. I am going to tell my friends about her page & products. I think £3.95 for a beautifully wrapped and environmentally friendly soap is marvellous. "
"Fragrance is fresh and quite nice, skin is lightly fragranced afterwards. It lathers up pretty well. It cleanses as effectively as my usual hand wash. Skin felt cleansed but not too moisturised and I had to use cream afterwards. It held its shape well and did not break. The fragrance lasted throughout too. The product delivers pretty well as far as a hard soap is concerned. I will continue using it . I like the packaging where the cloth can be reused. "
"Very mild fragrance, good lather. My body felt fresh and clean after use. Hands easily cleaned even after gardening. skin felt clean and fairly moisturised. I didn't feel a need to use cream on my body after use but did need to use it on my dry hands. The bar held shape well over the whole month and continues to. No cracks. No admittedly, my expectations of soap are not high. I do not expect a soap to have miraculous effects on my skin, just to clean it and I hope that my skin will not be dried out by using it. This soap more than fulfilled those expectations. I wouldn't expect to be able to use a soap all over my body necessarily and this soap worked well all over. I liked the spotty fabric the soap was wrapped in this was cute and quirky. "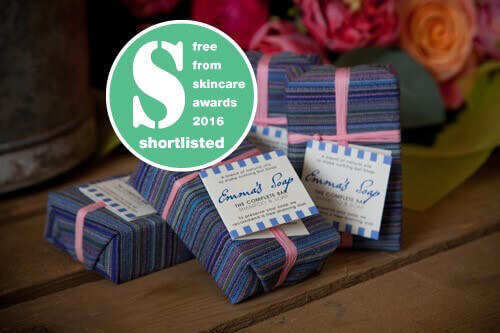 Also, The Complete Bar Shortlisted 2016
Category Hair Care
The Complete Bar with Jojoba base oil, is shampoo and soap in one bar, it nourishes & soothes the scalp and skin. Essential oil combination of Lavender and Rosemary is for normal hair, the user may wish to use conditioner to compliment.
Emma's Shampoo bar is made from Jojoba oil as it similar in composition to the oil our skin naturally secretes. It helps restore elasticity to the skin whilst nourishing and smoothing. It also has anti-inflammatory properties.
What the testers had to say:
"Very easy to use, my hair felt refreshed and squeaky clean, I liked the fact that the product that was natural. It did take a minute or so to get enough of the product to clean my mid length hair. Yes I love this product, I would buy it again for a weekend away, Yes loved the quality, and value for money and great double use as well. Like the branding and the packaging. "
"What is truly astonishing is how much body my hair has after it dries & how good the texture is. Superb! Lovely clean smell of herbs which wears off after rinsing. The texture is creamy soap. I have had eczema in my scalp for several years & to my complete surprise it has gone. My hair is normally very fine & badly behaved but now has body & bounce. I had low expectations & will never ever go back to ordinary shampoo & conditioner. An absolute gem - I wouldn't change a thing. Enchanting packaging & astonishing value for money! "
"The instructions make it clear that this is an all purpose soap for hair and body. The soap lathers easily on the body but takes a little more effort to work into the hair compared to a traditional liquid shampoo. I assumed my hair and scalp would feel dry after use, but I was pleasantly surprised that they were left relatively well moisturised. My hair looked shinier and usual, and my scalp, which tends to be a little itchy, felt calmer and less itchy than usual This is supposed to be a gentle soap for the hair and it definitely ticks that box. The packaging suggests that some cocoa butter has been added for moisture and conditioner is optional, but I felt that it was a necessity. Nonetheless, this is much less drying than I would expect a shampoo bar to be. It cleansed the hair very well, leaving it non greasy but not at all dry. Lovely natural herbal fragrance, with a hint of lavender, but not overpowering levels. I loved the rich lather that this soap produced. My scalp definitely felt a lot less irritated and itchy than it tends to be over time. "
"Yes, in general this product exceeded my expectations, as it cleansed hair well, left my scalp more comfortable than usual and made my hair shiny. I would definitely buy it to use on my body. Gorgeous packaging, wrapped in printed Fairtrade cotton, which makes this a perfect gift. Exceptional incredible value for money at £3.95. I love the ethos of the brand - made in England, handmade, no palm oil, parabens, fair trade etc - what more can you want!? Lovely simple list of pure, recognisable ingredients. I was a little worried that all the essential oils would irritate my sensitive skin, but had no such problems. "
"I used it when I was in the bath, to wash my hair. I wet my hair first and then rubbed the bar onto my head. It lathered up very easily without much effort. It was a smooth silky lather and really good for a natural product, without any Sodium Lauryl Sulfate. It left my hair feeling really clean and seemed to remove hair products like hairspray. It left my hair feeling like it had, had a good wash and didn't leave any film on it. It left my scalp feeling fresh and cleansed. It was better than I expected, as I was a bit dubious about it's performance, as I don't normally use a bar of soap to wash my hair, but I was pleasantly surprised at the results. The fragrance is a subtle smell of rosemary and lavender, which is pleasant and calming. You could really smell it when the bar was wet and you were using it, but there was only a very slight fragrance left on your hair, after using it. It left my hair feeling clean and moisturised and also soft touch, but I did follow it with a conditioner, as I always use one after shampooing. It also left my hair quite bouncy. It delivered beyond my expectations, it held together well and kept it's shape and fragrance. It really cleaned my hair and scalp, without drying it out. I would definitely buy this product, it is good value for money and would last quite a long time. It is beautifully packaged, you can really tell it is handmade. The packaging is all recyclable and there are even suggestions on the labelling, of uses for the square wrapping it comes in, such as collecting the squares to make a quilt or a bag! It is pretty colours and design. Rosemary is known to stimulate hair growth, so is an ideal ingredient for a shampoo."