ZERO WASTE POLICY

Paper
Paper was a serious contender with many environmental sustainable options from FSC managed forests to recycled paper. However Emma was of the opinion that paper in its sustainable recycled format was a material already used extensively throughout her business in the form of letters, business cards, invoices, promotional posters, product information etc.
Research also showed that Paper can only be recycled so many times and needs a percentage of virgin paper to give it strength. The more paper is recycled the higher the percentage of virgin paper is needed.
Whilst recycling paper is by far superior to buying and using virgin only paper, one tonne of recycled paper is the equivalent of 17 mature trees! The energy and subsequent pollution used to recycle paper is less than that required for virgin paper, 35% less water pollution is created and 75% less air pollution.
Recycling your paper should be second nature as should buying only recycled paper.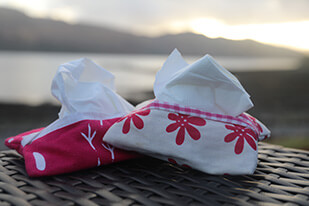 Organic Fair Trade Cotton
This was an early ethical decision, not only does it present the soap beautifully; it allows the soap to breath as well as protecting the soap and it can also be re-used. The fabric has become part of the labelling with each base oil allocated a colour and each essential oil combination allocated a pattern. Some of Emma's Soap is wrapped in bamboo fabric.
Emma promotes her 'reduce reuse recycle' ideas on each bar of soap and at events where she exhibits she has examples - see waste policy.
The soap is wrapped in parchment paper before the fabric, this reduces the rate that the essentials oils in the soap evaporate giving the consumer all the benefits of the oils and scent. Most baking/ parchment papers are coated with Quilon, which contains heavy metals like chromium that can be toxic when incinerated. Emma has selected a paper that uses Silicone, derived from a natural element. It's a much more expensive process, but worth it for everyone. Equally important, the paper use no chlorine in its production, which means no chlorine is dumped into our lakes and streams.
Cardboard Gift Boxes
Even the gift boxes have ideas for re-use, made from 76% recycled card, 24% FSC sustainable sourced card.
Just Think
Some of the ways you could reuse this box
A small bed for teddy or dolly
treasure/trinket box
Recycle as a gift box for a friend
A useful storage box spare buttons and fuses
All retail internet orders are dispatched through the postal service, in Jiffy Green bags which has 100% recycled paper fibre lining and is fully recyclable, biodegradable, and compostable. The envelope is sealed with compostable paper tape.
Emma also supplies a re-use label that can be placed over the address, allowing the customer to give the envelope a second use.
Even Emma's Gift Wrapping service and supplies are.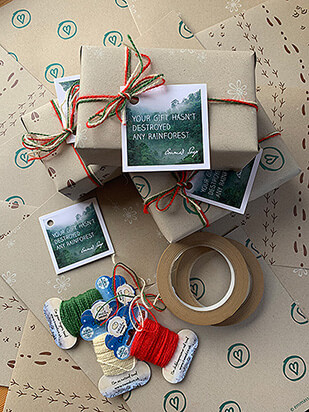 Policy statement on Emma's retail Web site regarding packaging:
You have purchased Emma's soap which is wrapped in Organic fair trade cotton, a reusable material. The soap is first wrapped in a quilon and chlorine free parchment paper, the label is printed in vegetable ink on recycled card attached with raffia. All these items are compostable. Please re-use the Jiffy envelope a reusable label has been provided to cover the address, alternatively this can also be composted. Gift boxes can be reused or recycled. Cellulose and cornstarch bags can be composted. To complete Emma's zero to land fill policy, the outer casing that carries your product through the mailing/ courier service has been reused, it could be a potato or apple box, even a shoe box, basically a sturdy clean box having a second life. Emma's Soap does not use single use plastic courier bags.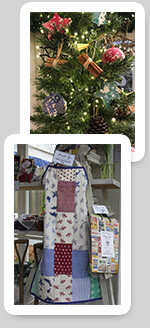 Photographs show customers:
Patched jeans
Earring bags
Apron
Tissue holders
Xmas decorations
ZERO WASTE POLICY
Packaging of Emma's Soap
I wanted a product that did not take from or pollute the environment. Much consideration was given to various methods of packaging for Emma's soap from paper to biodegradable packaging.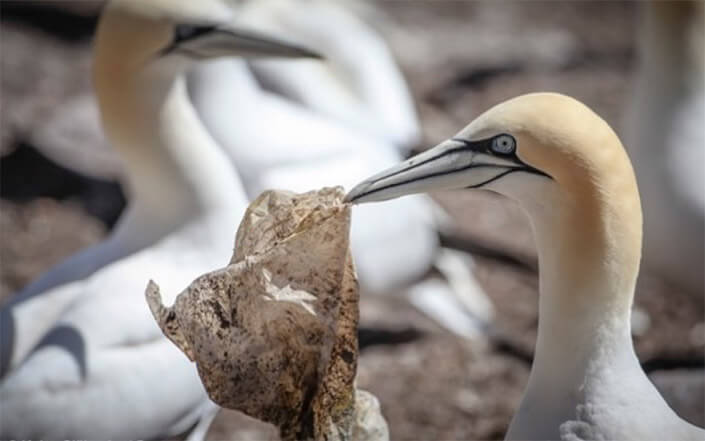 Emma's paper consumption:
Invoicing, letters, courier labels - Emma uses certified recycled paper - printed via a Brother printer which accepts the used toners for recycling.
Gift Boxes and laundry boxes - are made from 76% recycled card, 24% FSC sustainable sourced card. Recycled Tissue Paper, acid free sourced in EU. Paper tape - renewable kraft paper, water and solvent resistant, acid free. It is suggested that the tape remain on the envelope or box for recycling, this way the paper has a chance of being reused up to 7 times.
Soap labels, marketing booklets, point of sale material are printed on FSC approved, recycled, ECF virgin fibre and acid free paper/card. Using vegetable based inks.
Emma Promotes:
Paper - Recycle - Compost - make a paper Fire Block "Once you have finished with any of your vitally important correspondence and are sure you no longer need the contents, then we suggest you shred it, soak it and press into a paper brick. Then pop on the fire, keeping you warm with our compliments. If you'd like to know how to make paper bricks", click here...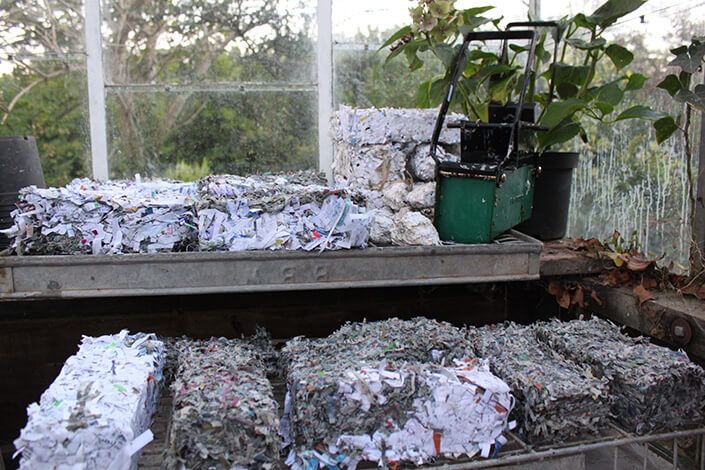 Biodegradable packaging was also a consideration in 2010 that was soon discarded when Emma, through research, learnt that much biodegradable packaging comes from sisal. Furthermore areas of the Malaysian rainforest are being destroyed to provide farming ground, to grow the sisal. Feeding the consumer demand for biodegradable packaging.
It's all about balance, as soon as we the consumer all switch to one idea, the demand increases and the sustainability ceases.
However I am pleased to say that Biodegradable packaging has developed much further now in 2020 with items made from Bamboo, sugarcane, cornstarch and wood pulp.
Emma uses cornstarch bags for all her laundry products. The cornstarch is made with Symphony Environmental's d2w oxobiodegradable technology which ensures that at the end of their useful life, in the presence of Oxygen they will convert into biodegradable materials.
Emma uses cellulose/biofilm bags made in the UK, for the 'off cuts', bath salts and laundry extras as well as her range of greetings cards.
After use the bag, which is approved to the UK Compost Home standard and for home composting can starts to break down within a few weeks (depending on the ambient temperature). This material will biodegrade producing CO2 and H2O, these 2 compounds combined with sunlight convert into energy by plants in a process called photosynthesis. The resulting tree growth can then be used to produce more cellulose.
The film spec states that, when being composted, it must biodegrade to a minimum of 90% within 6 months although in reality this can be achieved in less than 45 days with industrial composting. Home composting will be at a lower temperature and will take longer.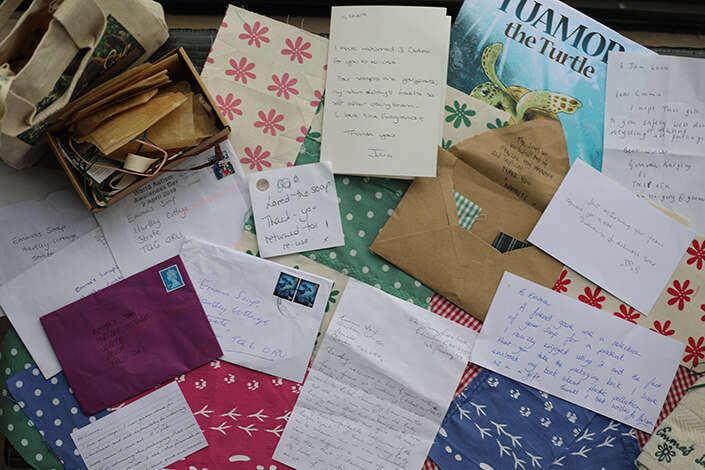 All of Emma's packaging can be Reused Recycled or Composted, "there really is no landfill waste if one uses the correct disposal methods and waste stream."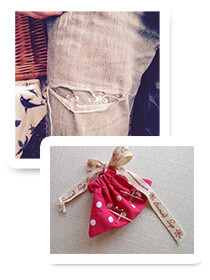 It is suggested to the consumer to re-use the fabric or return it, to compost the parchment paper, label, raffia or make a paper brick.
As stated on Emma's Soap label:
Reduce Reuse Recycle
Ideas for reusing the packaging
Collect the fabric squares and make a patch-work, bag, pillow or even a quilt.
Use to top your home made Jam, Chutney & Pickles!
Make clothes for your best loved doll or teddy!
Use to wrap your soap when traveling.
Return to Emma's Soap to be reused and get 5p off next purchase."
Emma has also created patterns for consumers to make bunting, dolly dress's, bees wraps, door stops and shopping bags.