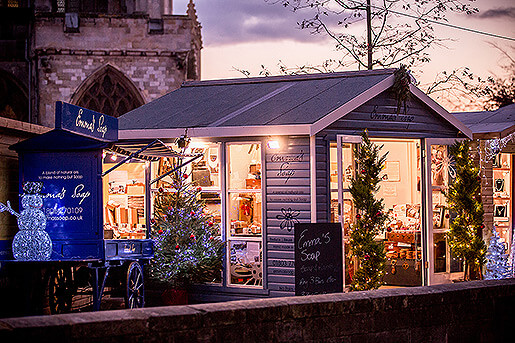 Events
Emma trades at several retail events from County Shows to local street markets through out the year. Emma's Soap can also be found at Spring Fair, Autumn Fair at NEC and Harrogate Home & Gift trade shows.
Testimonials
Hi Emma
I was given some of your lovely soaps for Christmas and I am so glad to have found you again. I don't know whether you remember but my Mum and I used to buy your soaps when you used to come to Bampton and I also use to e-mail you with an order. I would like to place an order of soaps again if that is ok but would like you to tell me what ones would be best as my Mum in Law has Psoriasis and my Mum has Eczema , as for me well i like all of them especially the fragrance ones, I used to like your lavender soap and the rose so anything like that.

Look forward to hearing from you.

Hi Emma, I hand this super soap for xmas pressy! I love it! just returning the packaging to you.

Thanks

Hello Emma
Thanks for your lovely email today, your message today was so chirpy and uplifting. The reason I first did an internet search for naturally made soap was to source products that were kind to the environment. There is never any excuse for any manufacturer to use ingredients that may directly or indirectly cause suffering to any living creature. So your ethos is to be admired and encouraged.

Best wishes

My husband sufferes from thrombosis, he has to wear elastic stocking which make the skin on his legs dry getting the stockings on and off is really difficult and painful despite the prescribed creams.

We ere given your soap and its wonderful, no more need to use creams. his skin is smooth and soft and we are able to get the stocking on and off easily. Your soap works better than the cream ever did.

Thank you

Hi there
My daughter is 12 and almost overnight has developed acne all across her forehead, which she obviously finds very distressing. She has been given antibiotics & various creams from the Dr's but I was wondering if you had a soap that could possibly help her, just like the eczema soap that is helping do many people?

Hi Emma
I would like to buy some of the soap to try as myself and my children all suffer with eczema, which has been recommended to me.

Dear Emma
My husband is suffering with an extreme allergic reaction on his arms, legs, groin, and hands. He has been allergic to perfumes for years but this latest reaction is so extreme. He has been given strong antihistamines which help a little and he is using aqueous calamine which also helps. I thought your soap might be the answer. Do you have one with absolutely NO perfume in it and one which may help?

Dear Emma
Thank you for an inspirational few hours and your generosity of knowledge.

Dear Emma,
I've run out! Is there any chance that you could send me some of your lovely soap early this week? I'm going on holiday on Friday 27th and would really like to take it with me.

Hi Emma
I have very dry skin and eczema which manifested in my 40's. I was recommend your soap by my parents who head read about you. I have to say we're only a couple of days in but first impressions are great, my skin actually feels more hydrated after washing!

Hi Emma
Congratulations on setting up this beautiful business!

Thanks Emma, fantastic customer service.

Morning Emma,
Just got my delivery! :) I absolutely LOVE them!!! They're just perfect, thank you! Emma.
I bought a bar of the Avocado soap from you at the recent craft fair in Exeter and it does help to ease my eczema.

Thank you so much Emma, I have the soap! Extremely delighted, many many thanks for your efforts

Hello
I was given your soap as a gift, its beautiful, lovely, natural ingredients, lovely on the skin and lovely fragrance. I am pleased you will reuse the packaging.

'It's the best I have ever used'

Emma
I bought the avocado unscented from you at the craft fair in Exeter and it has changed the condition of my hands.

I would like to buy some more of the Avocado unscented, its very good for my eczema, which is a lot better since using your soap. Thank you

I am writing to say how much I adore your skincare products. I like the way your company combines natural botanicals with science to create a truly powerful yet organic and natural product. My skin is usually dull and dry but after using your Shea butter soap it regains its youthful self and it's not dry anymore(until next shower time)!

So pleased to have found your soap at Dart's farm shop near Topsham today. It's gorgeous. Really appreciate NO PALM OIL plus just about everything else about this product. Thank you. Loving the soap. Keep up the good work.

Thank you for my order, Emma, it arrived safely today. I am delighted with my purchases and some of your beautiful soap is in use already. I am so glad to have found you! I love the raffia ties and, in fact, your whole ethos in manufacture and presentation. I have put through another order.

Hello Emma, Lovely soap, very nice, really impressed. I ran out and restored to commercial soap, my hands are score and drying out already, can't wait to get my order. Organic Shea Butter, Rosehip Oil and Jojoba Oil.

By heck I have lovely skin since using your soap, its really nourishing, beautiful product, it really is. My skin is as smooth as a babies bottom.

Thank you for processing my order so quickly. I'm very excited to have found homemade natural soap that is free from the nasties. Can't wait to try them.

Hi Emma, I've just picked up my parcel from the post office and just wanted to say thank you for the replacement soap dish and the soap was an unexpected extra. Thank you so much Regards

I have received your soap thank you l just love it, Thank you

Hello, Just wanted to say thank you for the soaps. They are lovely. Been using mine recently and my sister will love them, so many people are jealous when I show them. Best wishes

Just wanted to drop a line and thankyou for your Avocado soap. We bought some at the Exeter Xmas market in December for out One year old Grand daughter who has skin problems. Since using the soap mum and dad inform us her skin is now almost completely clear. Again many thanks and I will continue buying.