SHORTLISTED FREEFROM SKINCARE AWARDS
Emma's Soap Shortlisted in the Freeform Skin care awards for the second year running. In 2016 my Shampoo bar called The Complete Bar was selected in the Haircare category and my Reship Oil 'Relaxing & Balancing', hard soap category. This year 2017, my shaving soap and working hands were both selected.
WHAT ARE THESE AWARDS
The FreeFrom Skin Care Awards are designed to celebrate and encourage skincare and cosmetics manufacturers who create products that exclude many of the allergens, chemicals, fragrances and artificial additives associated with skin and health concerns, ethical and environmental worries, and which may appeal to those looking for purer or more natural cosmetics and products for their skin, including those with problem skin conditions.
Each accepted entry is initially submitted to four experienced Beauty Bible testers to undergo a rigorous month of 'real life' testing. Their feedback is then collated and used to draw up a Shortlist of products, which then go forward to our expert roundtable panel of judges.
EMMA'S SOAP
Emma's soap is simple, its a bar of oils and butters and nothing else is added.
Our skin holds our bodies together, shielding us from the outside world. It is our protective covering, our first barrier to fight illness and disease, and a passageway to our bloodstream.
I only uses the highest grade quality ingredients, first pressing (extra Virgin), Unrefined and Organic oils, 'only the best for my soap'. Nothing else is added no preservatives, foaming agents, no artificial fragrances or colours. No Palm Oil.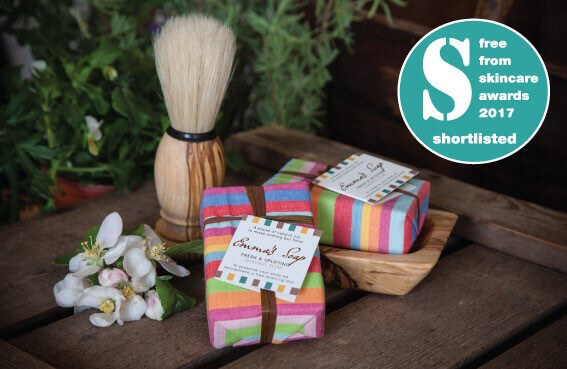 2017 SHORTLISTED
Fresh & Uplifting Shaving Soap
The Base oils in this soap, nourish, sooth and soften the skin leaving it feeling silky. Made from three speciality oils, unrefined Avocado oil moisturises, nourishes and restores the skin full of vitamins and minerals. Organic Cocoa Butter has wonderful soothing and emollient qualities with healing properties. Organic Shea Butter The is extremely moisturising, gentle leaves the skin feeling silky.
Fresh & uplifting essential oil combination balances, cleanses, and relaxes whilst uplifting the mind. With a zesty scent.
Here are two of the testers comments:
"The soap spreads very nicely over the skin when applied with a badger hair shaving brush. This is a pleasant, typically soapy fragrance. The sandalwood oil comes through in nice woody tones. The soap provides a great shave, particularly on the cheeks. My skin was left feeling silky and smooth. The biggest improvement is that I have noticed that my stubble feels a lot healthier, softer and shaves better. My skin looks clear and blemish free. This product definitely delivers, providing a smooth shave without irritation. I would definitely use this again. This product gets 10 out of 10 for packaging! The soap is bundled in an attractive piece of multicoloured organic cotton cloth. Attached to the bundle is a small tag identifying the product and displaying the ingredients and some product information. Also included are some suggestions on what to do with the cloth, such as use as a cover for home made jam, or add to a patchwork quilt. At £4.50 this represents excellent value for money. It really feels like serious thought and effort has gone into every aspect of this product, it has the feel of a cottage industry product and I'll definitely be exploring more of their range."
"Easily understood instruction and application. Being a soap bar, this is a first soap bar, when mixed with water produces a rich foaming lather which was easily applied. This has a herby citrus fragrance which was pleasurable. Perfectly easy to use without the additional of any oils. Skin felt comfortable during and after shaving. This was a decent product for shaving and made the experience better. I could see this being quite long lasting too and as such feel it would be worth further purchase. Packaging is perfect. Just sufficient to keep the product safe and fully disposable upon opening."
Also shortlisted was Emma's Working Hands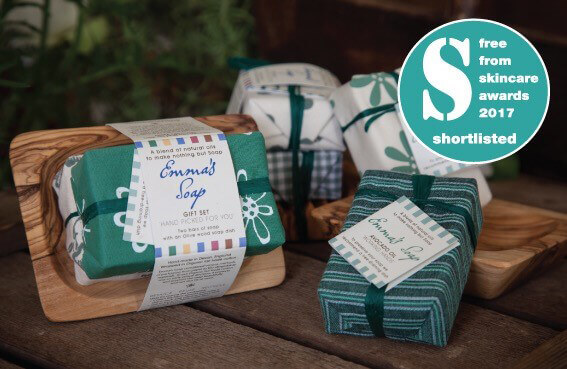 SO WHY AVOCADO?
This highly therapeutic oil, containing proteins, amino acids, vitamins A,B,D,E and lecithins. It is a skin food!
Very moisturising, with healing properties, it helps regenerate skin cells and softens body tissue.
Avocado oil penetrates deep into the skin unlike other oils which accelerates results, softening and hydrating the skin, it is a natural humectant, such properties prevent the skin from drying out.
Working Hands essential oil combination is a citrus scent with antibacterial properties has added pumice to aid grime removal. Good for gardeners, painters, mechanics all and every working hand.
Comments received from 3 testers:
Beautiful aromatherapy fragrance left my hands with a delicate scent. I was very impressed with how well it lathered pretty quickly, did a really good job with cleansing & refreshing my hands . If certainly surprised me, hands felt really clean without feeling tight or dry, ultimate test garlic hands after a thorough wash not a hint of garlic! I was surprised how clean my hands felt, also not dry at all .I also much mention my bathroom had the lovely aroma of this soap 2 hours later what a result! A great result, did not go mushy I did put it in a soap dish as recommended, also even using a least 7 times a day hardly a dent in the size. I am really impressed, my bathroom is still fragranced with this soap which to me is the sign of a quality product.
I loved this soap, I normally use a liquid soap …but I have been so impressed with how this soap, performed moisturising wise, also beautiful aroma, no soggy slimy mess. Economy wise after a months use hardly a dent in shape. I am finding it difficult to think of any improvement I would make, probably make a larger family size I have had to hide this from rest of the family, they love the fragrance.
I thought the packaging was so cute I would gift this to my friends & family lovely thoughts about how to use cloth packaging afterwards. Value you for money wise I thought it was a great price for for quality soap, packaged beautifully I am a convert to solid soap ...well this one anyway!
I enjoyed the pleasant fragrance of this soap which you could easily detect on your hands after use. It didn't lather excessively but worked efficiently without drying out your skin. Your skin felt moisturised after use. The soap cleansed your hands effectively and you could sense the pumice within the soap but without any ill effects. Your skin was left cleansed and moisturised without the necessity of hand cream. Over the trial period, the soap held its shape and the quality of the product remained high throughout. Instructions suggest using a free draining dish and this is an excellent suggestion otherwise wastage would occur which would be a shame for this lovely product. I enjoyed using this fragrant soap and would probably purchase as a gift. I can't think of anything to improve this lovely product. The product is beautifully packaged in a square piece of fabric which you are free to reuse. The labelling offers various ideas how to make good use of this fabric including as a cover for your homemade jams or clothes for your doll or you can return it to Emma's Soap for 5p off your next purchase. This soap would make an excellent gift all year round. It retails at £4.50 which overall I felt was value for money.
A slightly medicinal/citrusy smell which left a light, but pleasant smell on the skin. Lathered easily and quickly with plenty of bubbles. I used it after gardening and it certainly got all of the mud off my hands without leaving the hands dry. the skin felt very cleansed but soft and didn't dry the hands so didn't need to use a cream afterwards. The soap held its fragrance and didn't break or crack but went a bit soft towards the end - but that's fine. it did do what it says and I would buy it again and would probably also buy as a gift for a keen gardener. it is a good 'no nonsense' soap. The instructions were clear - it was best in a draining dish and not left on the sink. The labelling was very clear and informative and I like the hand written batch number and weight on the back of the label. The ingredients are all natural. The packaging is all recyclable and the organic fair trade cotton wrapping the product comes in is great. The products are hand made in Devon and are fairtrade . Good value for money at £4.50. I like everything their 'Green' credentials and their Charity Pledge to Living Coasts. A really ethical company.