What is Rosehip oil?
Rosehip oil is a fruit oil extracted from the hip of the rose, Rosa Rubiginosa. The hip is the fruit that is left after a rose has bloomed and the petals have fallen. Grown world wide in both Chilli, Australia as a crop, wildly grown across the globe including UK.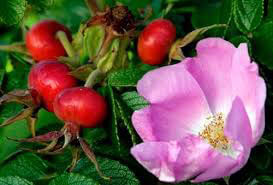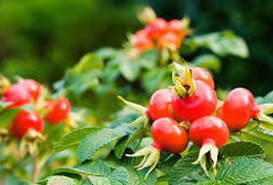 Rosehip Syrup, tea or tablets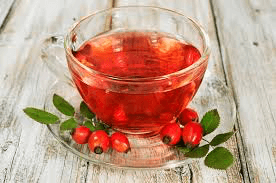 Has many beneficial claims, with world wide medical research. Fresh Roships made into a syrup is an tried and tested old recipe for the treatment and prevention of colds and flu symptoms, being rich in Vitamin C.

Also administered for Stomach disorders such as spasms, acid deficiency, irritation ulcers, it is used as a "stomach tonic". Administered to to aid diarrhea, constipation, gallstones, gallbladder ailments, lower urinary tract and kidney disorders.

Roships are said to assist those suffering with diabetes, high cholesterol, weight loss, high blood pressure, fever, increasing immune function.

Several studies have investigated the anti-inflammatory effects of rosehip extracts, particularly on the symptoms of arthritis. The results show that rosehip not only improves overall pain levels, but can also increase the range of hip movement. Those undertaking the trails reduce their use of painkillers and anti-inflammatory drugs when taking rosehip supplements. Some also said they had improved energy levels, better quality of life and increased general wellbeing as a result of fewer joint problems.

Its worth doing further research if you suffer from any of the mentioned complaints.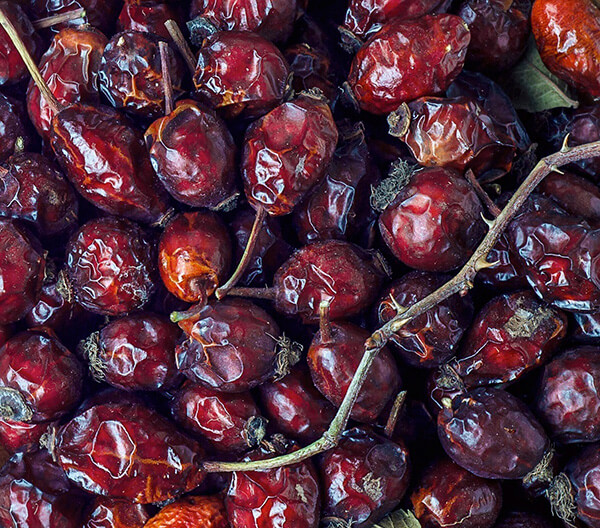 Its properties for the Skin
It is a naturally rich source of essential fatty acids, 77% of the oil is fatty acids, with vitamins A, C and E and antioxidants.

Omega 3, 6, and 9 fatty acids not naturally produced by the body which are essential for the health of our skin. These acids help repair damaged skin tissue and regenerate skin cells. When these essential fatty acids are absorbed through the skin, they convert to prostaglandins which assist in cellular membrane and tissue regeneration.

Also rich in vitamin A - retinol, a trans-retinoic acid which research has revealed helps reduce the signs of ageing especially from sum exposure.

Antioxidants which protect tissues in the body. Rosehip oil contains a variety of antioxidants such as lycopene and beta-carotene.
Research from Chile and Italy
Studies at the University of Chile in Concepción have shown the regenerative capabilities of Rosehip, their findings conclude:

Thanks to its high-level unsaturated fatty acids (Omega 3 and 6), betacarotene and Vitamin E, consistent application of Rosehip can activate cell regeneration, it has been shown to reduce wrinkles and even prevent new wrinkles from forming. Rosehip oil can also deter skin pigmentation caused by exposure to the sun, Finally, one of its greatest benefits is the partial or complete healing of scars or blemishes. Rosehip Oil reduces epithelial thickening and restores elasticity as well as the natural colour of the affected area of skin.

The oil is also used in the Italian Hospitals as show to reduce scaring, Rosehip helps restore skin elasticity, reduces skin ageing, revitalising as well as inducing skin healing.
Cosmetically
Rosehip oil is a healing oil that has the unique ability to deeply nourish and balance all skin types. The superfine oil is easily absorbed by skin and doesn't leave behind any oil residue.

With your first application, skin instantly feels smoother and softer. Over time, wrinkles, scars and stretch marks may begin to fade and your skin's natural healthy glow is restored.

Good for: wind chap, sunburn, rosacea. blemishes, fine lines and scars

Emma's Range or Rosehip Oil soap can be used on the face and body
Lavender Rose - Rejuvenate with jasmine


What others say about Emma's Soap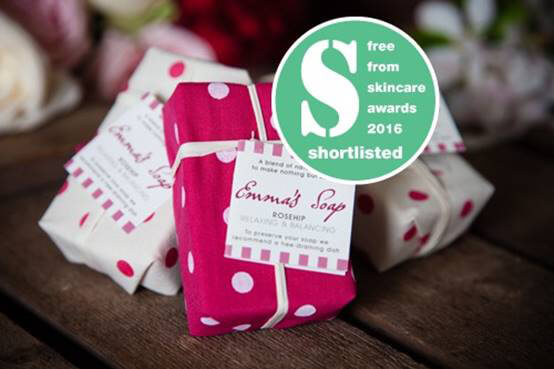 My husband suffers from thrombosis, he has to wear elastic stocking which make the skin on his legs dry getting the stockings on and off is really difficult and painful despite the prescribed creams.
We were given your soap and its wonderful, no more need to use creams. his skin is smooth and soft and we are able to get the stocking on and off easily. Your soap works better than the cream ever did.
Thank you