Might it be that the explosion in Eczema and Asthma sufferers amongst our children over the past 30 years is related to wrapping our children up in chemically laced fabrics?
More and more people are suffering from irritation to the skin, rashes, contact dermatitis and even respiratory distress through inhaling the chemicals in synthetic fragrances.
In our fast active lives, its so easy to pop your clothes in the washing machine, throw in some powder and press go, a full cycle later we have clean clothes, full of chemicals that do NOT wash out. Anything that rubs on the skin, clothes, towels, sheets will transfer those chemicals soley from surface contact. Our skin is porous; 60% of chemicals that come into contact with the skin transfer into the bloody stream.
THE FACTS
Most commercial laundry detergents use
surfactants
to loosen and remove the dirt;
optical brighteners
,which are light-reflecting fluorescent particles
,
to give the appearance of brighter colours;
bleach
to make whites look whiter and take the colour out of stains;
perfumes
that have no cleaning function but just make the garments smell more attractive. Biological powders also contain
enzymes
that eat stains.
What are all these things?
Surfactants
: Are a substance which binds to oily particles and then carries them away with water during washing. Synthetic chemical surfactants such as sodium lauryl sulfate, which when applied to the skin and then washed off, that not all the surfactant is removed, test have shown that these substances do not just adhere to the skin but penetrate it.
Optical brighteners:
Are not biodegradable, consequently these agents are extremely toxic to algae and small fish, with ability to bioaccumulate in bigger fish (concentrate inside bodies of living things) can cause mutations in bacteria
.

They can also trigger allergic skin reactions in humans when exposed to sunlight. when wearing clothes a micro climate is created between the fabric and your skin, when you perspire, the moisture releases the chemicals in the fabric - optical brighter - which when exposed to sunlight breaks down, causing photoroxic skin irritation. e.g. You start the day wearing a long sleeve shirt and in the afternoon its sunny you roll up your sleeves. The optical brighter has been transferred to your skin and comes into contact with the sun.
Bleach:
Bleach, or sodium hypochlorite, is a leading cause of poisoning in the home. If using in the work place, you are required to wear a mask and gloves!

It is a strong corrosive material which is an irritant to the eyes, nose and throat, respiratory tract by inhaling the gasses, if mixed with other cleaners, ammonia (e.g. urine), create a deadly gas. Bleach can also cause severe reactions if it comes in contact with the skin, burning, itching even pigment lightening.

Perfumes:
The chemicals used in fragrance additives can cause itchy, inflamed watery eyes and stinging nostrils. Chemical fragrances can trigger asthma and exacerbate those already with the condition.

Aggravates skin allergies, irritation and sensitiosation. Studies have shown that fragrances can have neurological effects too, migraines, nausea, dizziness affecting your thinking, making concentration and coordination difficult.

Chemicals used in fragrances are not listed in the ingredients, and may and do contain allergens!
What about Fabric Softener and dry sheets?
Fabric softeners use lubricating chemicals containing surfactants, synthetic fragrances and toxic preservatives to make fabrics feel softer and reduce static cling.

Dryer sheets are coated with chemicals containing softening agents, anti static agents and synthetic perfumes that transfer to the garments in heat.

Many chemicals in common household cleaning products act as xenoestrogens, or synthetic estrogens, which increase the amount of estrogen-like activity in the human body. This can negatively affect fertility in males and increase breast cancer risk in females. Hormone imbalance also contributes to an extensive range of problems including heart disease, depression, and mental impairment.

Studies have shown that bleaches such as sodium hypochlorite and surfactants such as linear alkylbenzene sulfonate (LAS) and fragrances react to generate chlorinated volatile organic compounds (VOC's), toxic and carcinogenic to humans.
Many of the chemicals used in commercial products are petrochemical-based ingredients derived from fossil fuels and are non-renewable.
Its not just us, that is effected by the toxic ingredients:
Producing and distributing laundry detergent already carries a heavy carbon footprint. Sodium triphosphate and trisodium phosphate can make their way into the water and interfere with sea life development. Phosphates that make their way into the water can increase the growth of toxin-producing algae which can kill plants, fish, dolphins, and other sea creatures.
THERE IS AN ALTERNATIVE
Emma's Laundry Soap contains no harsh chemicals, surfactants, optical brighteners, bleaches, perfumes, colours or enzymes - just Emma's soap flakes scented with a blend of essential oils and a natural stain remover.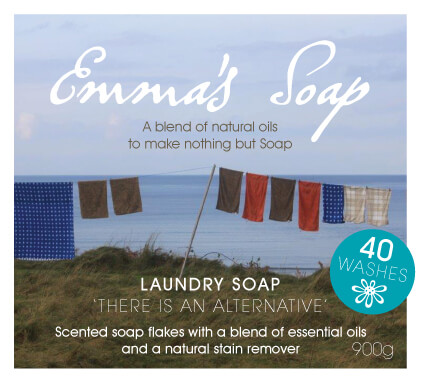 Emma's Laundry Soap includes full instructions on DIY stain removing, directions on how to use, mix and match ingredients according to the soil of one's clothes, washing ecologically and economically as possible.
STICKING WITH EMMA'S POLICY OF HONESTY,
'what goes into my laundry soap is green cleaners and soap flakes'
The Ingredients:
>
Soap flakes (300g): Aqua (Water), Sodium olivate (extra virgin Olive Oil), Sodium sweetalmondate (Sweet almond oil), Sodium cocoate (Extra Virgin Coconut oil), Sodium avocadoate (Avocado oil unrefined), Sodium cocabutterate (Organic Cocoa butter), Sodium sheabutterate (Organic Shea butter), Saponified (Unrefined Rosehip oil), Saponified
(
Unrefined Jojoba oil
),
Cera alba (Beeswax), Glycerine.
Essential oils: *Citrus limonum (Lemon), Lavandula angustifolia *(Lavender), Melaleuca viridiflora (Niauoli).
*Contains: limonene, linalool, geraniol, citronellol. Natural constituents of essential oils listed.
Natural stain remover (600g): 85% Sodium Precarbonate, 15% Sodium Carbonate,
5% Sodium Metasilicate.
"Nothing goes to waste" says Emma
"I have been grating the soap scraps into the washing machine for 3 years.
Our clothes are beautifully clean and soft."